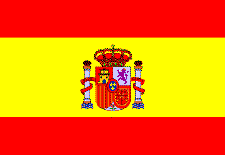 Speak And Understand Spanish Faster Than Ever With This Award-Winning System That Will Have You Loving Spanish Culture And Blending Into Conversations More Easily Than You Ever Dreamed Possible!
And the BEST thing is, it only takes minutes a day!
Spanish is the primary language of 20 countries worldwide. It's estimated that the combined total number of Spanish speakers is between 470 and 500 million people, making it the second most widely spoken language in terms of native speakers.  It is second only to Mandarin, the official language of China.
Indeed, in the United States today there are more Spanish speakers than in Spain. Those of us who live in the U.S. know that it is becoming almost a necessity to speak this beautiful language in order to be successful in business, social interactions, or just to be neighborly!  The language barrier can be crippling to any sort of human relationship and keeps us all separated, which is against the nature and intentions of America.
But perhaps you've tried and felt frustrated with the speed and accuracy of your attempts at learning a second language. Perhaps you've told yourself that you just don't have the time or energy to master it. Or maybe you've told yourself that you're just not smart enough to reach a level of fluency that won't make you sound like a two year old learning to talk.
Well, it doesn't matter if you've slumped into your chair with disappointment and frustration after having tried and failed to learn Spanish in the past… (In fact, the worse your previous attempts at learning Spanish have been, the more excited I am that you are here…)
Or if sometimes you feel like you are so busy that you don't even have time to eat, let alone hablar español (to speak Spanish), because a few minutes a day is all it takes…
And don't think you're too old and that you can't teach an old dog new tricks, because being older can make language learning easier, and stimulating your mind can add years to your life…
Maybe you are tone deaf (like me!), well that doesn't matter at all, because before you know it you will be ordering quesadillas and burritos like a native Spanish speaker…
Even if you believe that languages don't stick in your brain, when in fact, with the right system, they can stick like krazy glue…
Hola,
I'm Jason Oxenham, CEO and co-founder of Rocket Languages. Since 2004, our mission has been to let ordinary people truly master a new language anywhere they want to learn and at any time they wish to do it.
Today I want to invite you to join the 1,212,346 happy, successful, men and women from all 196 countries around the world, who've discovered how one amazing, award-winning, system will help them learn Spanish, when other systems have failed.
The very same system the illustrious PCMag selected as their Editors Choice for language learning, rating it above all the other well-known systems out there…
…and which also took out the prestigious 19th Annual Best Educational Software Award last year.
Jason Oxenham: Rocket Languages Co-founder and CEO
Awards:
As seen in:
The scientific theory behind our courses is the "chunking" process or Miller's Law by Dr. George A. Miller, which is based on the fact that the number of objects an average human can hold in working memory is 7 ± 2. So, simply described, it is the breaking down of big difficult content into small easy parts or "chunks".
Now, while it's important to have a strong scientific basis for a language learning system, it's equally important for you to know what works in the real world, from people who have succeeded at mastering one or more languages.
We have spent over 10 years figuring out what works and what doesn't, we have surveyed polyglots (people who speak multiple languages), researched people who overcame often severe learning difficulties to master a language, used advances in web technology, and much more…
All to develop a ground-breaking system that will get you speaking and understanding the language you've always loved, no matter how old you are, or what your current Spanish speaking ability is.
Discover how the 7 powerful language acquisition success strategies in Rocket Spanish will help you learn Spanish no matter what your background is…
 7 Success Strategies
1.} MAKE THE BEST POSSIBLE USE OF YOUR LIMITED TIME…
2.} UNDERSTAND EXACTLY HOW SPANISH WORKS…
3.} REINFORCE WHAT YOU LEARN SO THAT IT JUST STICKS FOREVER…
4.} SPEAKING AND SOUNDING LIKE A NATIVE…
5.} ACCESS THE ADVANCED LEARNING TECHNIQUES…
6.} HAVE A STRONG SUPPORT NETWORK…
7.} MAINTAIN MOTIVATION AND HAVE FUN WHILE YOU LEARN…
That all depends on how you go about it…
Let's do a quick comparison and look at some of the alternatives.
$$
Last time I checked, if you decided to buy one of our competitors software packages, like the well-known yellow ones you so often see advertised on the TV, you could be paying upwards of $500, never mind additional lessons that you may need to take to fill the gaps.
$$
Next, if you decided to take a language class, you'd be looking at paying at least $300 – $400 a semester, and that doesn't include the cost of textbooks and time away from the things you really want to be doing. Not to mention how little personal time you get in a classroom setting…
$
$$
Alternatively, you might consider hiring a local or online private tutor, but at the bare minimum you would be paying close to $50 an hour. Sure, it's smart to get one-on-one attention but it will end up being very expensive and there is no guarantee their method of teaching is going to work for you. Who knows, maybe they focus on a learning style that doesn't gel with the way you grasp language. Plus, you can't repeat a lesson without paying them again.
$$
$$
Maybe you've considered enrolling in a college or university course. No doubt, you've probably already seen that tuition could cost you anywhere between $1,500 to $2,000 on the low end, and let's face it, that means you're going to be busy trying to get to classes, wading through heavy text-books, and juggling with more than you need in order to speak and understand a language.
$$
$$$
And finally, maybe you've thought about simply diving in at the deep end and trying to learn through complete immersion in a foreign country. You know, booking a flight, paying for accommodation and flying by the seat of your pants.
Truth is you don't need to spend a huge amount of money, or years behind a desk to become proficient at daily conversation. Rocket Spanish provides a simple, quick, and affordable means of achieving mastery at Spanish, while allowing you to continue doing what you want. It's that flexible.
So how much is it worth to you, to save all that money and time?
With Rocket Spanish, it works out to be less than $1 per hour of tuition, that's unbeatable value in anyone's book.
You can get started on your way to Spanish mastery in less than 1 minute. 
As soon as you have ordered you will be directed to the Rocket Spanish members' area where you can access all the tools you need to truly master Spanish.
Remember, your access is 24/7 and is yours for life, including any and all course upgrades… so, once you have it you can come back to it at any time.